50 Great Sit Down Meals
for under $18

Celebrate with Galena's finest family of restaurants and experience amazing values while creating long-lasting memories of good food, great service and quality time together.
Learn More


Upcoming Events
Mark Twain &
the Laughing River
Jan-Mar 2014
A nationally-acclaimed, one-man show in which the wit & wisdom of Mark Twain comes alive through the storytelling & song of singer-songwriter-performing artist, Jim Post.
St. Patrick's Celebration
March 14-15 & 17, 2014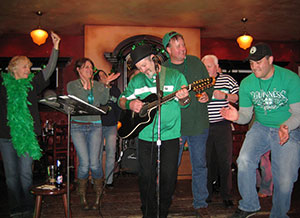 Our St. Patrick's Celebration is filled with live entertainment, music, specialty drinks and Irish food! Frank O'Dowd's is the place to celebrate St. Patrick's!
Wine Lovers Weekend
March 21-23, 2014
One week before the community celebration, The Irish Cottage brings you gourmet meals, fine wines, beers and local spirits tastings, and a tour of the Blaum Bros. Distillery during The Irish Cottage's Wine Lovers Weekend.
Irish Ceilidh
April 11-12, 2014
Join us for a special weekend of traditional Irish song, dance and feast! Weekend includes live music by Andreas Transo, performances by our Irish dancers and a traditional Irish Session. Plus, our complimentary Hot Irish Breakfast will return!
Videos
Galena Eats video
Savor an Escape video
Hidden Treasures video
Print
Celebrate Spring with Galena's
finest family of restaurants.
As the days grow longer delight in the warmer weather and celebrate spring with Galena's finest family of restaurants. Each of our three uniquely designed locations convey a simpler time where good food, service and entertainment create long-lasting memories.

Great food and drink, warm hospitality, and generations of family traditions are the foundation of our family of restaurants - Frank O'Dowd's Irish Pub & Grill , One Eleven Main and Vinny Vanucchi's 'Little Italy.' All family-owned and operated, these fine dining establishments invite you to embark on a culinary journey.


Recommended by
"Galena Eats"

Food blogger Ellery Long shares the authentic and unique food and drink experiences she discovered on her first trip to Galena. Read the List
Wine Lovers Weekend

The Irish Cottage brings you gourmet meals, fine wines, beers and local spirits tastings, and a tour of the Blaum Bros. Distillery during The Irish Cottage's Wine Lovers Weekend. Event Details
Live Entertainment

Showcasing dynamic entertainers, the Frank O'Dowd's stage welcomes talented musicians on Friday and Saturday nights year round, with additional dates scheduled near holidays throughout 2014. Entertainment Calendar
Lodging & Dinner Packages

When visiting Galena, stay at our sister property, The Irish Cottage. At this Galena hotel, you'll find well-appointed guest rooms and warm hospitality. Choose a Galena Dining & Lodging package to experience our restaurants too. Galena Hotel Packages
---







Ól, Céol agus Craic


(a good pint, great music
and wonderful entertainment)


- Frank O'Dowd, 1902-2000





Frank O'Dowd's Irish Pub & Grill

is the beating heart of The Irish Cottage Boutique Hotel. Serving traditional and modern Irish cuisine, Frank O'Dowd's also offers an extensive selection of wine, beer and spirits.

Featuring live entertainment and Irish dancing every weekend, Frank O'Dowd's is not to be missed when visiting Galena, Illinois.

9853 US Hwy 20
Galena, Illinois 61036
815.776.0707
www.TheIrishCottage.com


---







"Dine at Galena's Table"



Make

One Eleven Main

your first stop on Galena's Main Street. The culinary staff at One Eleven Main is inspired by locals who have made food their life. From growing, harvesting and creating products to immersing themselves in a culinary specialty, their passion for food and wine is an inspiration.

The menu at One Eleven showcases local ingredients and each dish is a modern interpretation of a Midwest classic. While dining at One Eleven Main you'll get a chance to "meet the locals" - the simple, yet sophisticated decor features striking black and white images of local growers and producers.

111 N. Main Street
Galena, Illinois 61036
815.777.8030
www.OneElevenMain.com


---







"A Taste of the Old Neighborhood"



Perched halfway up a charming cobblestone street,

Vinny Vanucchi's "Little Italy"

features made-from-scratch Italian cuisine and an outstanding wine selection.

Entrees are served with baskets of Vinny's piping hot garlic bread and bowls of salad tossed in a sweet Vinny's Italian Vinaigrette House Dressing.

Vinny's distinctive multi-story dining rooms feature warm, inviting decor, family photos, and imported artifacts and signs.

Vinny's ambiance is at once both casual and elegant.

201 S. Main Street
Galena, Illinois 61036
815.777.8100
www.VinnysGalena.com